I am mom to a fairly large brood of dogs, pitfall of working with rescues & having questionable self control. My approach to caregiving is letting them be dogs because that's what they are best at. And this involves them being outdoors a lot, especially as they spend a considerable amount of time at our home in Bandipur which is on the fringes of a shrub forest. I provide them with the nutrition they need as per the species they belong to and eliminate as much chemicals as i can from their lives. From this holistic approach to canine care, have evolved products that take care of ticks, fleas while keeping their skin and coat in top shape. Less chemicals, more wellness, is our mantra.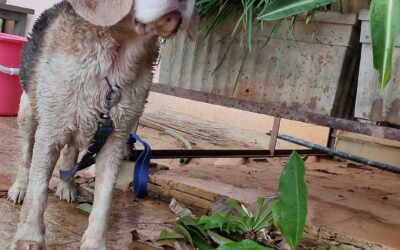 Dogs with healthy skin don't need a bath any more than once in 3-4 weeks. Unless of course, they go & roll in poop or dead carcass ? If your dog/s smells bad a few days after a...
read more
For 3 years I had bought so many varieties of shampoos – flea/tick free, odour control, organic, soothing blah blah blah, some even claim to be soap free! Ha! Not a single one of them comes close to Scooby Dub Dub & Quicky Clean! I've been using SDD & QC since it launched – my dogs have been tick-free & gorgeous ever since! I have sworn to never use commercial dog shampoo ever again! Thank you for this chemical free, all natural, conditioning, healing, anti parasitic, magic of a product! It's soooooo good!
Elmo had itchy skin and small bald patches when he came to me (due to an underlying thyroid issue). I started Scooby-dub-dub treatment followed by Quicky Clean bath every 15 days. To help assist his constant itching we would use the SDD+coconut oil paste on his bald spots. In no time his itchiness calmed down and he started growing hair. In about a months time he was fully recovered. His hair now is super soft and he barely itches.
Hozi was found abandoned in a dumpster, rescued and brought to me. He came with a truckload of fleas and ticks which led to him scratching and biting his own body. Since Ms.Chinthana had told me that SDD was safe for young pups like Hozi, I decided to give that a shot. And within a couple of hours of his bath, he had completely stopped itching and biting and his fur was smooth and shiny!! SDD is a godsend ?
[wp_my_instagram username="backintheday.in" limit="6″ layout="6″ size="large" link=""]